It is a versatile radio receiver designed to capture AM signals, particularly within the Medium Wave (MW) frequency range spanning from 540 to 1,600 kHz. This radio device comprises three integrated components, each playing a crucial role in its operation: the power supply unit, the high-frequency (HF) section, and the audio frequency (AF) section.
The power supply unit is responsible for managing incoming electrical power, typically receiving a standard mains voltage of 220V, and adeptly converting it into a stable 9V direct current (DC) supply. This efficient power management ensures the radio's reliable and consistent performance.
Moving on to the HF section, this component takes a central role in the signal reception process. It plays a pivotal role in both amplifying and refining incoming radio signals. Through sophisticated amplification and filtering techniques, this section optimizes signal quality, reducing interference, and enhancing the overall listening experience.
The star of the AF section is the TBA 820 M circuit, which steps in to further amplify the audio signal. Its capabilities extend to delivering an impressive 2W of power output, ensuring that the sound you hear is not only clear but also capable of reaching significant volume levels when necessary.
In summary, this AM radio is a comprehensive and efficient device, skillfully managing power conversion, signal amplification, and audio enhancement. Its construction and design represent a remarkable blend of technical prowess and technological innovation, making it a valuable tool for radio enthusiasts and professionals alike.
TBA 820 M
The TBA 820 M circuit is an exceptional electronic component known for its remarkable audio amplification capabilities. This circuit is renowned for its ability to deliver a power output of 2 watts, making it a formidable force in enhancing audio quality. With its efficiency and reliability, the TBA 820 M is highly regarded in the field of audio electronics. It excels in providing both significant amplification and clarity to audio signals, ensuring that the sound produced is not only powerful but also exceptionally crisp. Engineers and audio enthusiasts often turn to the TBA 820 M circuit when they seek to achieve superior audio performance in their projects, whether in radios, amplifiers, or other audio equipment. Its technical prowess and reputation for excellence have firmly established it as a preferred choice for those aiming to elevate their audio experiences.
Power Supply Diagram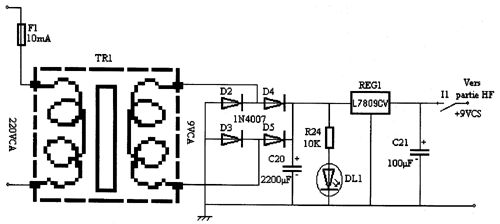 High-Frequency Section Diagram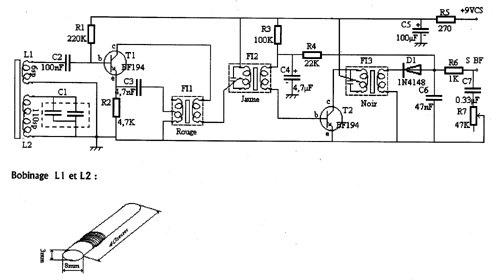 Diagram of the low frequency part
Not currently available
List of components
Power part
TR1:Transformer 220v/9v 400mA
F1: 10mA fuse
D2-D5: Diode 1N4007
REG1:L7809CV voltage regulator
R24:10K
C20: Chemical capacitor 2000µF/16v
C21:Chemical capacitor 100µF/16v
DL1: Red LED diode small model
I1:Switch
High frequency part
Resistances
R1:220K
R2:4.7K
R3:100K
R4:22K
R5:270
R6:1K
R7:47K variable
Capacitors
C1:….
C2:100nF
C3:4.7nF/16v
C4:4.7µF/16v
C5:100µF/16v
C6:47nF
C7:0.33µF
Winding
L1:6sp
L2:110sp
FI1: Intermediate frequency transformer (red)
FI2: Intermediate frequency transformer (yellow)
FI3: Intermediate frequency transformer (black)
Semiconductors
T1-T2:Transistor BF194
D1:Diode 1N4148
Low frequency part
Resistances
R8:100K
R9:10K
R10:33
R11:4.7
Capacitors:
C8:10µF/16v
C9:470µF/16v
C10:10µF/16v or 47µF/16v
C11:56pF
C12:100µF/16v
C13:220nF
Miscellaneous
Speaker: 2W speaker
TBA820M amplifier